This is as much a log as anything else, so bear with me. After my post the other day I decided to make a note of all the 'tiny inconveniences' and notes on a recent shopping trip to local market town, Fareham.
The theory goes like this: every situation that unduly burdens the cyclist is a disincentive to use the track (and, possibly, to cycle at all).
I'm not a huge cycling fan. It's as much for utility as anything else, but my purpose for logging this is to capture all the little bugbears that steadily erode my willingness to cycle over public transport or (more likely) the car.
Trip started off at the north edge of Lee-on-Solent, towards Fareham. I was keen to get onto the dedicated bus route as Newgate Lane, the most direct route, is frustratingly narrow and busy.
---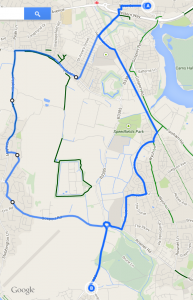 New Daedalus Junction – Shared path on northbound side. The pedestrian/cyclist crossing is staggered, so there are two sets of lights to press and wait at, just to get across one road. The estate is largely unbuilt so the road is quiet. With few cars turning in or out, there's little point in waiting. In reality, as I was simply going ahead it would have been easier to rejoin the road and come back off to the cycle track again.
Peel Common Roundabout – To get round this roundabout from Lee to Gosport you need to cross two fairly busy roads. Both have dedicated signals for crossing, and these seemed reasonably quick.
There's quite a deep trench in the path. Clearly somebody has come along and dug across the path, and the tarmac has subsequently sunk. At about an inch deep and a sharp edge I can't imagine that does tyres any favours.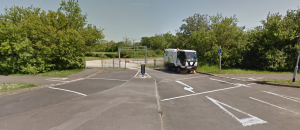 After coming off Peel Common Roundabout the cycle path crosses the Recreation Ground entrance. This is normally closed – I'm not sure if it's even used any more, but cyclists must give way to any traffic potentially coming in. There are humps on the entrance road where the path crosses (with an island inbetween), but these don't extend to the edges giving the cyclist four nasty bangs if they're not careful.
I came off the cycle path and round the Peel Common estate to connect to Tukes Avenue. Not sure if this is quicker, but I know the cycle path has several priority issues (cars over cyclists) which put me off following that path.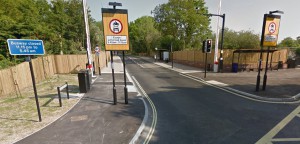 At Wych Lane I join the new dedicated bus road. At the Wych Lane junction turning into the road is prohibited except for buses and cycles. On the road itself, there's a "no motor vehicles" sign applied 'except for authorised buses'. There's also a 'no pedestrians' sign. It would have been reassuring to see a cycle sign just to make sure I was supposed to use the road. The signs technically allow it but with so many prohibition signs and cameras about I had residual doubt. That said, I'm overly cautious anyway so for most I doubt this matters.
Further down, by the Palmerston Business Centre, there are even signs for 'Cyclists Dismount'. I'm not sure if this is intended for path-users or not but I figured I could continue using the road.
The bus road itself is fantastic to cycle down. Dead straight, very little traffic (naturally) and smooth.
At the end of the bus route, just before Redlands Lane a little cycle path deviated to the right. I know there's a path on the far side of the A32, but there were no direction signs anywhere in sight. It would be useful to know the 'recommended' route to Fareham from here.

I stuck with Redlands Lane and headed towards a path I knew, starting at the junction with St Michael's Grove. This was a little tricky as several cars (and a bus) were trying to negotiate the junction and pedestrians were walking across the path entrance completely unaware of me. I waited in the middle of the road for them to cross but I can imagine this manoeuvre wouldn't be to everybody's liking.
The cycle path crosses a small residential road and crosses one of the streams leading to the Creek. Here, pedestrians are granted a fairly substantial bridge while cyclists follow the hill down and back up again. Unfortunately this stream also seems to be a favourite destination for dog walkers who naturally need to use the same (narrow) path. I had one nearly walk out on me, which – having just come down a fairly steep hill – was a good test for the brakes. There is good visibility here so realistically cyclists should see any potential hazards well in advance.
This path then turns under the railway and Western Way, with a rather blind bend caused by the bridge brickwork. This is also quite a narrow section, so cyclists and pedestrians alike have to be ready for anything.
Finally the path dumps the cyclist rather unceremoniously into a residential street, Crescent Road behind West Street. Poor signage again leaves the cyclist wondering which way is recommended, although the main street is clearly nearby and there aren't that many options. Caution needs to be applied here as a garage is operational – I stopped to let a van reverse but wasn't entirely sure he ever saw me.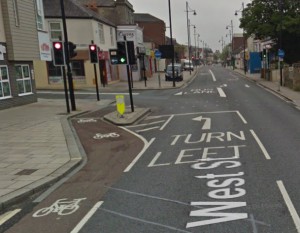 Once on West Street a cycle strip alongside the road takes the cyclist towards the town centre. A set of traffic lights protects the cyclist (continuing straight) as traffic is forced left onto Trinity Street. I had to wait a while for the lights to change, and imagine most cyclists don't bother waiting. That said, the protected turn was nice to have.
Finally, to Fareham Town Centre where there was a bike stand waiting for me. Nice and straightforward.
On the way back, I decided to take a slightly different route and followed the journey as far as Redlands Lane. Here, I continued down St Michael's Grove all the way to the bottom. Halfway down there was a sign directing Stubbington cyclists to turn right, but by the time I spotted this it was too late and traffic was passing me.

Once on Longfield Avenue I cycled on the road until a sign directed me onto the pavement. This was nearly a ninety-degree bend – quite sharp, but in hindsight (and with Google Maps) I realise this was intended for cyclists crossing from the other side – presumably the route I'd missed earlier.
From here it was a straight run up to the roundabout with Peak Lane, which I took to head towards Stubbington. This is a great path, nice and straight with a fairly smooth ride. However, once I'd built up speed I had to put on the brakes again to cross a small side road – I believe this is a restricted road to Newgate Lane. Again, cyclists must give way to traffic and despite nearly no traffic it is a blind corner so the cyclist must slow right down before crossing. I would bet most cyclists risk it – having built up speed. Also worth noting if I'd cycled on the main road, of course, I'd have no such priority issues.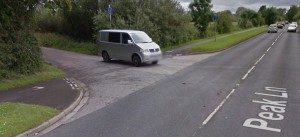 In Stubbington the path crosses another small side road (again with priority to crossing traffic) before merging the cyclist onto a strip on the road. This is a bit of an awkward junction, since the cyclist must watch both the side road and the traffic behind them to ensure both a cross and a merge can be performed safely.
Cyclists are directed to turn onto Windermere Avenue which passes Meoncross School. As luck would have it it was kicking-out time and the road was congested with school-run drivers. I got a little satisfaction from passing them all.
At the bottom end, this turns into Burnt House Lane where the same school-runners were queuing to get onto the Gosport Road. The lane is narrow here and I had trouble passing the traffic. Admittedly I could've been a little more aggressive but many of the cars were too close to the kerb to pass on the inside.
Once through Stubbington I followed Gosport Road all the way back to the Mark's Road junction, where a shared path re-emerges. This is a tricky junction and I'm sure it used to be signposted better.
Essentially the cyclist must take a left turn into the adjacent layby and move onto the pavement. The left turn is sharp but quite doable, however not signposted at all. They must then cross Mark's Road (newly traffic light controlled) and cross the Gosport Road (again, with lights) to end up on the cycle path. I pressed the button for the first set of lights but after about twenty seconds the 'please wait' light disappeared. I ended up just waiting for a quiet time to cross, but this seemed fairly idiotic.
The second set of lights worked rather better and changed almost immediately. I crossed the main road and met the cycle path to take me back to Lee.
it's worth adding that this section of Gosport Road (between Stubb and Peel Common Roundabout) is quite narrow and has a lot of motor traffic, yet at least two cyclists passed me on the road, while I used the dedicated path. I can't help but wonder if the sheer hassle of crossing those junctions is enough to discourage them from bothering.