Stormhoek is the name of a winemaking company. It has nothing to do with Ren Hoek from Ren & Stimpy.
Hugh MacLeod – the guy who makes your business card more interesting – is a promoter for the company, and is responsible for punting wine out to hundreds of bloggers, in the hope they'll write about it (and they do).
Stormhoek also provide complimentary cases for a load of bloggers' social events, including the London Geek Dinner December last year, and the Sussex Dinner January this year. In both cases I was driving, so I couldn't really give any a decent test.
However, there were a few bottles left over so I pinched one for consumption at a later date.
Now, before I begin this review I should point out that my wine tasting expertise goes as far as "this one's red", and "this one's white". I also own Sideways on DVD, but don't understand most of it. Hence, my experience of the wine is limited to a series of action photos.
Here's the customary bottle shots in all their curvaceous glory. Unopened, but that doesn't last for long: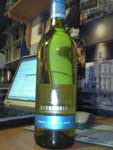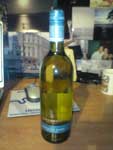 Here I am enjoying the fine wine: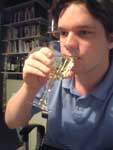 It is a Sauvignon Blanc 2005. It's important to know the history of a vintage (the year the grapes were harvested) as this can dramatically affect the taste. This year was notable for the marriage of Prince Charles and Camilla Parker Bowles, the release of Star Wars Episode III and the demise of the Rover car company. As a result, this wine has a full-bodied, fruity taste.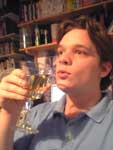 In all seriousness, the wine is very refreshing. If I buy some (it's in most UK supermarkets), I'll most likely save it for a special occassion. This wine feels like it should be served with something, rather than being purely used to drown one's sorrows or as an excuse to write a poorly conceived blog post.
I enjoyed it so much, I messed myself a little: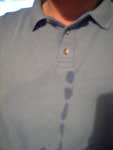 After a few days of sipping and whatnot, I finished the bottle. And what a delight it was – my first experience of Stormhoek was a good one, and I'll be looking out for it in the shops. (Before I'm criticised for being a naive sell-out with an uncultured palate and a penchant for anything alcoholic, I have disliked wines before and can actually tell the difference 😉
Here are some closing shots of the empty bottle, before it gets sent off to the recycling pixies: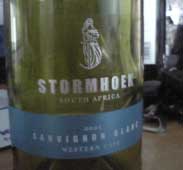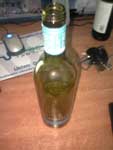 Thank you Stormhoek!