Google's 3D world viewer, Google Earth has been updated to version 5.
The headline feature is the ability to view historic satellite photos, as in this picture of Cherque Farm housing estate, near Lee on Solent, Hampshire, UK.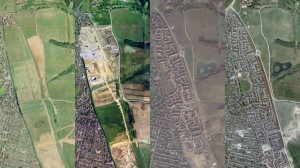 In the series of photos, ranging from 1999 (left) to 2007 you can clearly see the construction of the estate over time.